Before I get on to anything, we just want to thank you guys so much for 2000 website users, that's incredible! We are amazed by such a number, and we hope this continuous growth never ends. Once again, thank you!
Top Voters
It's this time of month again, top voters! Top three voters will recieve a $15 voucher from the store. PM me through the website of what you want from the store.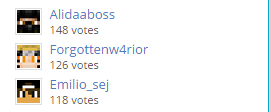 Once again, thank you everyone for voting, it brings in tons of new players, we appreciate every vote you guys give us.
- Affixial